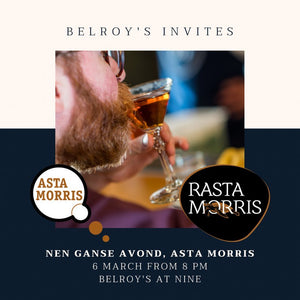 Taste the finest spirits from Asta Morris and Rasta Morris at BelRoy's at Nine
Come join us for a tasting evening of fine spirits at BelRoy's at Nine! Our selection of fine spirits will tantalize your taste buds and leave you wanting more. Our first event will feature Asta Morris, an award-winning independent bottler of single malt Scotch whisky. Asta Morris has been at the forefront of the whisky industry for over a decade, delivering award-winning whisky from some of the finest distilleries in Scotland.
At BelRoy's at Nine, we are proud to host an evening of tastings from Asta Morris whisky and Rasta Morris rum.
On the tasting menu:
- Asta Morris Asta Ila 2008 (Caol Ila op Sherryvat)
- Asta Morris Auchentoshan 1998
- Asta Morris DRKNSS dark sherried single malt
- Rasta Morris Jamaica rum 2005
- Rasta Morris Trinidad rum 2001
Are you looking for an unforgettable evening of whisky and rum exploration? Look no further than BelRoy's at Nine!
 When? Monday 6 March at 20h00

 Where? BelRoy's at Nine, Lijnwaardmarkt 9, Antwerpen
We only have limited seats available, so make sure to buy your ticket in advance to secure your spot. And remember, your registration is only final after payment has been received.
For any questions, please do not hesitate to send us an email at info@belroys.com.